There's now less than a week to go until the Bitcoin trading competition the BTC Brawl, the latest installment of the Bybit games, gets underway!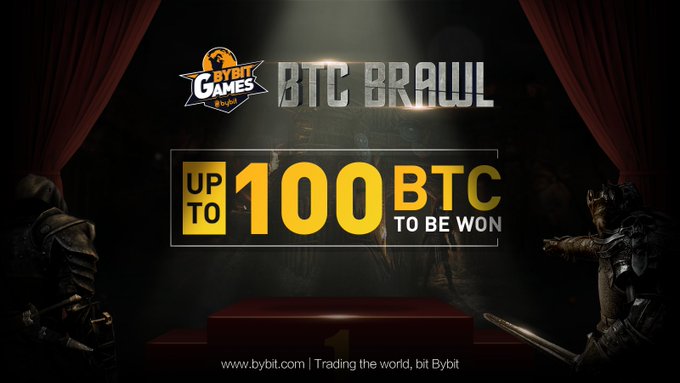 So why get involved, and what's it all about? Let's take a look!
Why take part in the BTC Brawl?
The BTC Brawl gives you a chance to pit your trading wits against traders from all corners of the world.
BIG PRIZES TO BE WON
There will be up to a 100 BTC Prize pool, with prizes for the top 10 teams and individuals, and 20% off taker fees for everyone who takes part.
Everyone must join a team to take part, with every team having a team leader. Over 230 teams have signed up already (by 11/22/2019), and you can sign up for a team and register for the competition here.
Team winners will be decided by average team PnL during the course of the competition, with individual winners being decided by average individual PnL during the course of the competition.
Early bird registration is now over, but you can still bag yourself a $10 registration bonus by registering before the shenanigans get underway on 28th November 9.00UTC.
COOL GIVEAWAYS
On top of that, there will be cool giveaways held throughout the competition, including bonuses and official merchandise, so be sure to keep your eyes peeled on our Twitter for the updates.
AN AWESOME THEME TUNE
To get you in a brawler mood (if you're not already!), check out the BTC Brawl theme song, "Bybit Games" by crypto rapper Lil Bubble!
Everyone at Bybit is very excited about the BTC Brawl and can't wait for the fun to get started! You can read all about the prize pool and competition rules here, and FAQ about the competition here.